FILMS
The Delinquents (Delinquents - Die Gesetzlosen, 1956-USA; R+B: Robert Altman, K: Charles Paddock, D: Tom Laughlin) 72m-Drama (06-2 Wochen; 5703)
Countdown (Countdown: Start zum Mond, 1967-USA; R: Robert Altman, B: Loring Mandel, K: William W. Spencer, M: Leonard Rosenman, D: James Caan, Joanna Moore, Robert Duvall) 101m-Raumfahrtdrama (Roman von Hank Searls) (6802)
That Cold Day in the Park (Ein kalter Tag im Park, 1968-CDN; R: Robert Altman, B: Gillian Freeman, K: Laszlo Kovacs, M: Johnny Mandel, D: Sandy Dennis, Michael Burns) 113m-Psychodrama (Roman von Richard Miles) (10-?; 6906)
MASH (1969-USA) (Roman von Richard Hooker) (7003)
Brewster McCloud (Nur fliegen ist schöner, 1970-USA; R: Robert Altman, B: Doran William Cannon, K: Lamar Boren, Jordan Cronenweth, M: Gene Page, D: Bud Cort, Sally Kellerman, Michael Murphy) 105m-Satire (7012)
McCabe & Mrs. Miller (1970/71-USA) (Roman von Edmund Naughton) (10-01; 7106)
Images (1971-IRL) (7211)
The Long Goodbye (1972-USA) (Roman von Raymond Chandler) (7303)
Thieves Like Us (1973-USA) (Roman von Edward Anderson) (7402)
California Split (1974-USA) (7408)
Nashville (Nashville, 1974-USA; R: Robert Altman, B: Joan Tewkesbury, K: Paul Lohmann, MS: Richard Baskin, D: Ned Beatty, Karen Black, Keith Carradine, Geraldine Chaplin, Shelley Duvall, Scott Glenn, Jeff Goldblum, Barbara Harris, Lily Tomlin) 159m-Gesellschaftsporträt (07-08; 7506)
Buffalo Bill and the Indians, or Sitting Bull's History Lesson (1976-USA) (7606)
3 Women (Drei Frauen, 1976-USA; R+B: Robert Altman, K: Chuck/Charles Rosher, Jr, M: Gerald Busby, D: Shelley Duvall, Sissy Spacek, Janice Rule) 125m-Drama (09-?; 7704)
A Wedding (Eine Hochzeit, 1977/78-USA; R: Robert Altman, B: Robert Altman, John Considine, Allan Nicholls, Patricia Resnick, K: Charles Rosher, Jr, MS: Tom Walls, D: Desi Arnaz, Jr, Carol Burnett, Geraldine Chaplin, Howard Duff, Mia Farrow, Vittorio Gassman, Lillian Gish, Lauren Hutton, Viveca Lindfors, Pat McCormick, Dina Merrill, Nina Van Pallandt) 125m-Gesellschaftsstudie (7808)
Quintet (Quintett, 1978-USA; R: Robert Altman, B: Frank Barhydt, Robert Altman, Patricia Resnick, K: Jean Boffety, M: Tom Pierson, D: Paul Newman * Bibi Andersson * Fernando Rey, Vittorio Gassman) 110m-Endzeitdrama (01-? > 10 Wochen; 7902)
A Perfect Couple (Ein perfektes Paar, 1979-USA; R: Robert Altman, B: Robert Altman, Allan Nicholls, K: Edmond L. Koons, M: Allan Nicholls, D: Paul Dooley, Marta Heflin) 110m-Liebeskomödie (7904)
Health (Der Gesundheits-Kongreß, 1979-USA; R: Robert Altman, B: Frank Barhydt, Robert Altman, Paul Dooley, K: Edmond L. Koons, M: Joseph Byrd, D: Carol Burnett ° Glenda Jackson ° James Garner ° Lauren Bacall) 98/105m-Satire (02-3 Monate; 8009, LA)
Popeye (Popeye - Der Seemann mit dem harten Schlag, 1980-USA; R: Robert Altman, B: Jules Feiffer, K: Giuseppe Rotunno, M & Lyrics: Harry Nilsson, D: Robin Williams, Shelley Duvall) 114m-Musikkomödie (8012)
Come Back to the 5 & Dime, Jimmy Dean, Jimmy Dean (Komm zurück, Jimmy Dean, 1982-USA; R: Robert Altman, B: Ed Graczyk, K: Pierre Mignot, D: Sandy Dennis, Cher, Karen Black) 110m-Drama (8209)
Streamers (1983-USA) [Bühnenstück von David Rabe, 1975] (?-08; 8311, LA)
O.C. & Stiggs (Black Cats, 1983-USA; R: Robert Altman, B: Ted Mann, Donald Cantrell, K: Pierre Mignot, M: King Sunny Ade, D: Daniel H. Jenkins) 109m-Satire (8707)
Secret Honor (Secret Honor, 1984-USA; R: Robert Altman, B: Donald Freed, Arnold M. Stone, K: Pierre Mignot, M: George Burt, D: Philip Baker Hall) 90m-Drama (?-05; 8506) > Verfilmung eines Ein-Mann-Stücks
Fool for Love (Fool for Love * Fool for Love - Verrückt vor Liebe, 1985-USA; R: Robert Altman, B: Sam Shepard, K: Pierre Mignot, M: George Burt, D: Sam Shepard * Kim Basinger * Randy Quaid & Harry Dean Stanton) 107m-Drama (Bühnenstück von Sam Shepard, 1983) (05-06; 8512)
Beyond Therapy (Therapie zwecklos, 1986-USA; R: Robert Altman, B: Christopher Durang, Robert Altman, K: Pierre Mignot, M: Gabriel Yared, D: Julie Hagerty, Jeff Goldblum, Glenda Jackson, Tom Conti, Christopher Guest) 93m-Komödie (06-?; 8702)
Aria (Aria, 1986/87-GB > Sechstes Segment * R+B: Robert Altman, K: Pierre Mignot, D: Bertrand Bonvoisin) 98m-Episodenfilm (08-03; 8803)
Vincent & Theo / Vincent et Theo (Vincent und Theo, 1989-GB/I/NL/F; R: Robert Altman, B: Julian Mitchell, K: Jean Lepine, M: Gabriel Yared, D: Tim Roth, Paul Rhys) 139m-Künstlerbiografie (06-?; 9004) > ursprünglich 4stündige TV-Serie
The Player (The Player, 1991-USA; R: Robert Altman, B: Michael Tolkin, K: Jean Lepine, M: Thomas Newman, D: Tim Robbins, Greta Scacchi) 123m-Satire (Roman von Michael Tolkin) (06-08; 9204)
Short Cuts (Short Cuts, 1992-USA; R: Robert Altman, B: Robert Altman, Frank Barhydt, K: Walt Lloyd, M: Mark Isham, D: Andie MacDowell) 189m-Episodenfilm (07-10; 9310)
Ready to Wear (1994-USA) (9412)
Kansas City (1995-USA/F) (04-07; 9605)
The Gingerbread Man (1997-USA) (9801)
Cookie's Fortune (1998-USA) (9904)
Dr T & the Women (Dr. T & the Women, 1999/00-USA; R: Robert Altman, B: Anne Rapp, K: Jan Kiesser, M: Lyle Lovett, D: Richard Gere, Helen Hunt, Farrah Fawcett, Laura Dern, Shelley Long, Tara Reid, Kate Hudson, Liv Tyler) 122m-Komödie (11-01; 0010)
Gosford Park (2001-GB/USA) (0112)
The Company (2002-USA) (0312)
A Prairie Home Companion (2005-USA) (0606)
AWARDS
National Board of Review Award (beste Regie) für Nashville (1975)
New York Film Critics Circle Award (beste Regie) für Nashville (1975)
Regiepreis für The Player [Filmfestspiele Cannes 1992]
New York Film Critics Circle Award (beste Regie) für The Player (1992)
British Academy (BAFTA) Award (beste Regie) für The Player (1993)
London Film Critics Circle Award (Regisseur des Jahres) für The Player (1993)
Joseph-Plateau-Preis (für sein Lebenswerk) [Filmfestival Gent 1993]
Lifetime Achievement Award [Directors Guild of America 1994]
Goldener Löwe (für sein Lebenswerk) [Filmfestspiele Venedig 1996]
New York Film Critics Circle Award (beste Regie) für Gosford Park (2001)
Golden Globe (beste Regie) für Gosford Park (2002)
Goldener Ehrenbär (für sein Lebenswerk) [Berlinale 2002]
Career Achievement Award [Los Angeles Film Critics Association Awards 2004]
Ehren-Oscar (2006)
BOOKS
Helene Keyssar: Robert Altman's America. New York: Oxford University Press, 1991 - 272 S.
Daniel O'Brien: Robert Altman: Hollywood Survivor. London: Batsford, 1995 - 144 S. mit zahlr. Abb., Bibliographie, Filmographie, Index
---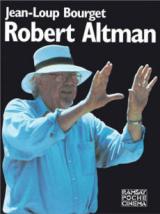 Jean-Loup Bourget: Robert Altman. Paris: Ramsay, 1999
Robert Altman est l'un des plus grands cinéastes du cinéma américain. Truculent, généreux, iconoclaste, il a revisité les genres hollywoodiens les plus divers, du western (John McCabe, Buffalo Bill et les Indiens) et du policier (Le Privé) à la science - fiction (Quintet), du film musical (Nashville) et de la comédie satirique (M.A.S.H., Un mariage) à la bande dessinée (Popeye). Il a ainsi composé un foisonnant portrait de groupe, nostalgique et irrévérencieux, de l'Amérique contemporaine, tandis qu'une veine plus secrète, empreinte d'onirisme, lui inspirait Images et Trois Femmes. Au début des années 80. Altman se voue au théâtre et à la télévision, puis il effectue un retour triomphal avec The Player, acide satire d'Hollywood, et Short Cuts : Les Américains, fresque et kaléidoscope à vingt-deux personnages, qui renoue avec l'esprit symphonique et aléatoire de Nashville. France Culture > 158 pages
---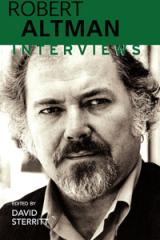 David Sterritt [Hg.]: Robert Altman - Interviews. Jackson: University Press of Mississippi, 2000
Robert Altman is one of the most inventive, unpredictable, and hotly debated American filmmakers of the past thirty years. His movies include popular hits (M.A.S.H., Nashville), critical successes (Thieves Like Us, The Long Goodbye, Short Cuts), and outright disasters (Beyond Therapy). Through triumph and tribulation alike, Altman has never lost the experimental spirit that brought him into feature filmmaking after twenty years of refining his talent on industrial movies and TV episodes. He also has maintained a gregarious, often garrulous nature, rarely missing an opportunity to discuss his work, life, and ambitions with the many critics and scholars who have plied him with questions throughout his career. The lively interviews in this book, drawn from a wide variety of sources, range from a colorful talk with Altman as he prepared an early foray into the western genre (McCabe and Mrs. Miller) to a mid-1990s conversation about the challenges of blending jazz and cinema in Kansas City. The interviews probe the many corners of Altman's work, including his epic battles with Hollywood studios and producers, his deep commitment to independent production, his creative views on video and stage-to-screen adaptation (a major facet of his career), and his insistence that he is more an audiovisual artist than a storytelling entertainer. Altman's conversations cast light on his idiosyncratic personality, revealing his taste for intoxicating experiences both on and off the screen and suggesting links between his risk-taking behaviors at the gambling table and the motion-picture set. This collection of interviews is a first-person portrait of a true American maverick whose freewheeling career has waged a decades-long campaign against Hollywood complacency and served as inspiration for new generations of independent screen artists. > 256 pp.
---
Robert T. Self: Robert Altman's Subliminal Reality. Minneapolis: University of Minnesota Press, 2002
The most complete and compelling analysis available of Altman's films. With his complex and unconventional films, Robert Altman often draws an impassioned response from critics but bafflement and indifference from the general public. Some audiences have dismissed his movies as insignificant, unsatisfying, and unreadable. Ironically, Altman might agree: he makes films in order to challenge filmgoers' expectations of straightforward narratives and easily understood endings. In Robert Altman's Subliminal Reality, Robert T. Self sheds light on Altman's work and provides the most comprehensive analysis of his films to date. With close readings of classics like MASH, McCabe and Mrs. Miller, and Nashville, as well as more recent films like The Player, Short Cuts, and Cookie's Fortune, Self asserts the value of Altman's work not only to film theory and the entertainment industry but to American culture itself. In his analysis, Self identifies Altman's films particularly as they address issues of form, identity, and industry. He explains how Altman critiques moviemaking forms by using an open, fragmented mode of storytelling and by turning conventional Hollywood genres inside out. He examines Altman's characterization of social and individual identity as fragile and fragmentary and his depiction of antiheroic characters debilitated by their socially constructed gender roles. Finally, Self shows how Altman challenges the entertainment industry itself, questioning its methods and motives and critiquing its role in our cultural alienation. Self frames his study of Altman's work with a discussion of the director's efforts to create a "subliminal reality" in his narratives—to touch audiences on an unconscious level and to recognize the unspoken, and unspeakable, dimensions in human interactions. According to Self, this striving for "subliminal reality" makes Altman's films not only exemplary of the potential of art cinema narration but instrumental in keeping such narrative alive. > 344 pages
---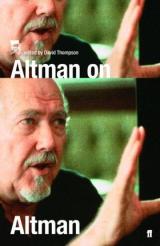 David Thompson [Hg.]: Altman on Altman. London: Faber and Faber, 2006
In his own words, one of American cinema's most incorrigible mavericks reflects on a brilliant career. Robert Altman served a long apprenticeship in film before his great breakthrough, the Korean War comedy M*A*S*H* (1969). It became a huge hit and won the Palme d'Or at Cannes, but also established Altman's inimitable use of sound and image, and his gift for handling a repertory company of actors. The 1970s then became Altman's decade, as he released a string of masterpieces: McCabe and Mrs Miller, The Long Goodbye, Thieves Like Us, Nashville. In the 1980s Altman specialised in adaptations of remarkable stage plays, but he was restored to international prominence in 1992 with The Player, an acerbic take on Hollywood. Short Cuts, an inspired filming of Raymond Carver, and the Oscar-winning Gosford Park, have underscored his comeback. In conversation with David Thompson, Altman is frank, funny, and endlessly fascinating as he recalls his many bold experiments, adventures and mishaps, spanning six decades behind the camera. This is the definitive study of one of America's greatest film-makers. > paperback, 320 pages
---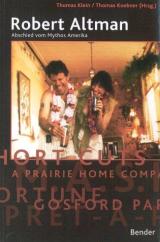 Thomas Klein, Thomas Koebner [Hg.]: Robert Altman - Abschied vom Mythos Amerika. Mainz: Bender Verlag, 2006
Robert Altmanns Filme haben dem Western, dem Film Noir, dem Gangsterfilm und anderen Genres neue Impulse verliehen. Seine orginellen und manchmal komplexen Erzählformen haben dem Kino neue Möglichkeiten eröffnet. Gleichzeitig übte Altmann stets auch Kritik an der US-amerikanischen Gesellschaft. Mit Filmen wie M.A.S.H. und Nashville wurde Altmann zu einem der Protagonisten des New Hollywood, sein eindruckvolles Comeback feierte er mit The Player. > 254 S. mit 58 Abb., Bibliographie, Filmographie, Index, brosch.
---
Rafał Syska: Zachować dystans. Filmowy świat Roberta Altmana. Kraków: Rabid, 2008
Oto powstała kompleksowa, szczegółowa i wyczerpująca monografia przedstawiająca pełny dorobek amerykańskiego twórcy. Autor nie tylko zdobył i poznał wszystkie dzieła reżysera, co w wypadku kilku pozycji było trudne, dokonał szerokich studiów lekturowych, ale odbył też podróż śladami Altmana po USA, co pozwoliło mu na odnalezienie klimatu jego dzieł. Całość pracy układa się w różnorodne i barwne panneau szczegółowo i przenikliwie charakteryzujące zakres zainteresowań reżysera, jego sposób widzenia rzeczywistości, autorski styl i stałą walkę z systemem hollywoodzkim o zachowanie twórczej integralności. Książkę Syski czyta się z niesłabnącym zainteresowaniem, którego powodem jest nie tylko fascynująca twórczość Altmana, ale także głęboko profesjonalny, naukowo bezbłędny warsztat Autora, wspierany nieukrywanym i inspirującym podziwem dla dorobku reżysera. Mimo stosownego balastu naukowości - wszak jest to rozprawa habilitacyjna - praca zapewne zainteresuje nie tylko wąską grupę filmoznawców, ale także szerokie grono miłośników filmu. Została ona bowiem, co szczególnie podkreślam, napisana komunikatywnie, potoczyście i z ujmującą pasją. [aus der Buchbesprechung von Grażyna Stachówna] > 650 S.
---
Mitchell Zuckoff: Robert Altman: The Oral Biography. New York: Knopf, 2009
Robert Altman - visionary director, hard-partying hedonist, eccentric family man, Hollywood legend - comes roaring to life in this rollicking cinematic biography, told in a chorus of voices that can only be called Altmanesque. His outsized life and unique career are revealed as never before: here are the words of his family and friends, and a few enemies, as well as the agents, writers, crew members, producers, and stars who worked with him, including Meryl Streep, Warren Beatty, Tim Robbins, Julianne Moore, Paul Newman, Julie Christie, Elliott Gould, Martin Scorsese, Robin Williams, Cher, and many others. There is even Altman himself, in the form of his exclusive last interviews. After an all-American boyhood in Kansas City, a stint flying bombers through enemy fire in World War II, and jobs ranging from dog-tattoo entrepreneur to television director, Robert Altman burst onto the scene in 1970 with the movie M*A*S*H. He revolutionized American filmmaking, and, in a decade, produced masterpieces at an astonishing pace: McCabe & Mrs. Miller, Thieves Like Us, The Long Goodbye, 3 Women, and, of course, Nashville. Then, after a period of disillusionment with Hollywood - as well as Hollywood's disillusionment with him - he reinvented himself with a bold new set of masterworks: The Player, Short Cuts, and Gosford Park. Finally, just before the release of the last of his nearly forty movies, A Prairie Home Companion, he received an Honorary Oscar for lifetime achievement from the Academy, which had snubbed him for so many years. Mitchell Zuckoff - who was working with Altman on his memoirs before he died - weaves Altman's final interviews, an incredible cast of voices, and contemporary reviews and news accounts, into a riveting tale of an extraordinary life. Here are page after page of revelations that force us to reevaluate Altman as a man and an artist, and to view his sprawling narratives with large casts, multiple story lines, and overlapping dialogue as unquestionably the work of a modern genius. > Hardcover, 576pp.