FILMS
#

Blackrock (1996-AUS * Steven Vidler ... bit als Toby) (08-10; 9705)


#

Paws (P.C. - Ein Genie auf Pfoten, 1996-AUS/GB * Karl Zwicky ... bit als Oberon) (10-12; 9709)
# Two Hands (1998-AUS; d+B: Gregor Jordan, K: Malcolm McCulloch, M: Cezary Skubiszewski, D: Heath Ledger: Jimmy ° Bryan Brown: Pando ° Rose Byrne: Alex) 92m-Krimikomödie (04-06; 9907)
# 10 Things I Hate About You (10 Dinge, die ich an dir hasse, 1998-USA; d: Gil Junger, B: Karen McCullah Lutz & Kirsten Smith, K: Mark Irwin, M: Richard Gibbs, D: Julia Stiles: Katarina [Kat] Stratford, Heath Ledger: Patrick Verona, Joseph Gordon-Levitt: Cameron James, Larisa Oleynik: Bianca Stratford) 97m-Romanze [Bk von William Shakespeare] (06-08; 9903)
# The Patriot (1999/00-USA * Roland Emmerich ... Gabriel Martin) (09-01; 0006)
# A Knight's Tale (Ritter aus Leidenschaft, 2000-USA; d+B: Brian Helgeland, K: Richard Greatrex, M: Carter Burwell, D: Heath Ledger: William Thatcher, Mark Addy: Roland, Rufus Sewell: Graf Adhemar, Paul Bettany: Geoffrey Chaucer, Alan Tudyk: Wat) 132m-Abenteuer (05-08; 0105)
# The Four Feathers (Die vier Federn, 2000/01-USA/GB; d: Shekhar Kapur, B: Michael Schiffer & Hossein Amini, K: Robert Richardson, M: James Horner, D: Heath Ledger: Harry Faversham * Wes Bentley: Jack Durrance * Kate Hudson: Ethne Eustace) 125m-Abenteuer (Roman von A.E.W. Mason, 1902) (10-03; 0209)
# Monster's Ball (Monster's Ball, 2001-USA * Marc Forster ... Sonny Grotowski) (05-06; 0112)
# The Order / Sin Eater - Die Seele des Bösen (2002-USA/D; R+B: Brian Helgeland, K: Nicola Pecorini, M: David Torn, D: Heath Ledger: Alex Bernier, Shannyn Sossamon: Mara Sinclair, Mark Addy: Thomas Garrett, Benno Fürmann: William Eden & Peter Weller: Driscoll) 102m-Okkultthriller (01-03; 0309)
# Ned Kelly (Gesetzlos - Die Geschichte des Ned Kelly, 2002-AUS/GB * Gregor Jordan ... Ned Kelly) (

Roman

von Robert Drewe) (04-07; 0303)
# The Brothers Grimm (Brothers Grimm, 2003-GB/CZ; R: Terry Gilliam, B: Ehren Kruger, K: Newton Thomas Sigel, M: Dario Marianelli, D: Matt Damon: Wilhelm Grimm * Heath Ledger: Jacob Grimm) 118m-Fantasyaction (06-11; 0508)
# Lords of Dogtown (2004-USA/D; R: Catherine Hardwicke, B: Stacy Peralta, K: Elliot Davis, M: Mark Mothersbaugh, D: Emile Hirsch: Jay, Victor Rasuk: Tony, John Robinson: Stacy, Michael Angarano: Sid, Nikki Reed: Kathy Alva, Heath Ledger: Skip Engblom) 107m-Drama (04-?; 0506)
# Brokeback Mountain (Brokeback Mountain, 2004-USA/CDN * Ang Lee ... Ennis Del Mar) (Kurzgeschichte von Annie Proulx) (05?06-08; 0512)
# Casanova (Casanova, 2004-USA; R: Lasse Hallström, B: Jeffrey Hatcher & Kimberly Simi, K: Oliver Stapleton, M: Alexandre Desplat, D: Heath Ledger: Giacomo Casanova, Sienna Miller: Francesca Bruni, Jeremy Irons: Bischof Pucci, Oliver Platt: Papprizzio, Lena Olin: Andrea) 108m-Komödie (07-?; 0512)
# Candy (Candy, 2005-AUS * Neil Armfield ... Dan) (

Roman

von Luke Davies) (0605)
# I'm Not There (2006-USA/D; R: Todd Haynes, B: Todd Haynes & Oren Moverman, K: Edward Lachman, MS: Randall Poster, Jim Dunbar, D: Christian Bale: Jack Rollins/Pastor John * Cate Blanchett: Jude * Marcus Carl Franklin: Woody * Richard Gere: Billy the Kid * Heath Ledger: Robbie Clark * Ben Whishaw: Arthur) 135m-Künstlerbiografie (07-?; 0711)
# The Dark Knight (The Dark Knight, 2007-GB/USA * Christopher Nolan ... Joker) (04-11; 0807)
# The Imaginarium of Doctor Parnassus (Das Kabinett des Doktor Parnassus, 2007/08-GB/CDN; d: Terry Gilliam, B: Terry Gilliam & Charles McKeown, K: Nicola Pecorini, M: Mychael Danna & Jeff Danna, D: Heath Ledger: Tony, Christopher Plummer: Dr. Parnassus, Verne Troyer: Percy, Andrew Garfield: Anton, Lily Cole: Valentina & Tom Waits: Mr. Nick & Johnny Depp: Imaginarium Tony 1, Colin Farrell: Imaginarium Tony 3, Jude Law: Imaginarium Tony 2) 122m-Fantasy (12-04; 0910) > HL starb während eines Kurzurlaubs in New York. Gilliam unterbrach die Produktion des Films unmittelbar nach Ledgers Tod und setzte die Dreharbeiten im März 2008 wieder fort. Ledgers Rolle wurde in den noch fehlenden Szenen von drei anderen Schauspielern (Johnny Depp, Jude Law und Colin Farrell) übernommen.
AWARDS
> New York Film Critics Circle Award (bester Darsteller) für

Brokeback Mountain

(2005)
> International Award (bester Darsteller) für

Brokeback Mountain

[Australian Film Institute 2006]
> International Award (bester Darsteller) für

The Dark Knight

[Australian Film Institute 2008] > postum
> Los Angeles Film Critics Association Award (bester Nebendarsteller) für

The Dark Knight

(2008) > postum
> Academy Award / Oscar (bester Nebendarsteller) für

The Dark Knight

(2009) > postum
> Golden Globe (bester Nebendarsteller) für

The Dark Knight

(2009) > postum
> BAFTA Award (bester Nebendarsteller) für

The Dark Knight

(2009) > postum
BOOKS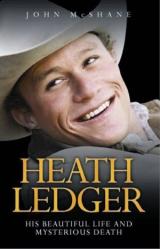 John McShane: Heath Ledger: His Beautiful Life and Mysterious Death. London: John Blake, 2008 - 288 S.
Young, cocksure, handsome and absurdly talented, Australian actor Heath Ledger shot to prominence with his first Hollywood film "10 Things I Hate About You": and a star was born.With huge charisma and smouldering looks lighting up the screen in a series of subsequent films, Heath was soon established as Hollywood A-list, dating a series of beauties such as Heather Graham and Naomi Watts, and living every young man's dream.But it was his award-winning and controversial role as Ennis Del Mar in "Brokeback Mountain" that cemented his place in the pantheon of acting greats - he was one of the youngest people ever to be nominated for an Oscar. And it was on the set of this film that he fell in love with his co-star Michelle Williams. Though the relationship wasn't to last, the couple had a daughter in 2005.With the world at his feet and a film-stealing turn in the new Batman movie, "The Dark Knight", in the can, there was worldwide shock and disbelief when the news broke that he had been found dead in his New York apartment on 22 January 2008. Prescription drugs, found next to his dead body, were thought to be the cause, but mystery surrounded the circumstances. Was it an accidental death? Or were the pressures of life in the spotlight too great to bear?What is certain is that this young man, who touched the lives of so many people, leaves behind a grief-stricken public and family, including a two-year-old daughter. This is the tragic story of the brilliant actor whose light shone so brightly but all too briefly upon the world.
---
Brian J. Robb: Heath Ledger. Die unbekannte Seite des Hollywood-Stars. Diedorf: Ubooks, 2008 - 280 S.
Heath Ledger war ein begnadeter Schauspieler, dessen plötzlicher Tod mit gerade einmal 28 Jahren die Medienwelt schockierte und in Aufregung versetzte. Über das Privatleben des Stars aus Filmen wie "Ritter aus Leidenschaft", "Brokeback Mountain" oder "Zehn Dinge, die ich an dir hasse" war bis dato nur sehr wenig bekannt. Seine schauspielerische Leistung wurde unter anderem mit einer Oscarnominierung für "Brokeback Mountain" gewürdigt. Die in Deutschland noch nicht gezeigten Filme "The Dark Knight" (die lang erwartete Batman-Fortsetzung) und Terry Gilliams "The Imaginarium of Doctor Parnassus" stellen den Abschluß einer Karriere dar, die obwohl gerade erst begonnen, bereits große Schatten voraus warf. Heath Ledger war einer der vielversprechendsten jüngeren Darsteller. Die kurze Zeit, die Heath Ledger als Schauspieler vergönnt war, reichte bereits aus, um einige unvergängliche Meisterwerke zu schaffen. * Heath Ledger was one the most charismatic and powerful screen presences of his generation. Having established a high-profile acting career by the age of 21 with the lead in 'A Knight s Tale', the young Australian went on to pursue a succession of increasingly diverse and often subversive roles that challenged the film industry s initial impression of him as a mere teen-idol. While a limited number of his early roles would hint at the greatness of which he was capable, it was not until his melancholy, Oscar-nominated performance in Ang Lee s modern classic 'Brokeback Mountain' that Heath proved beyond question the blistering extent of his abilities and secured his place amongst the Hollywood elite, bringing to this new status a depth of artistry absent in all but the most accomplished of his contemporaries. His sudden death at the age of 28 rocked the film industry to its core, created an international media storm, and threw a poignant shadow over the completed body of work that has now become his legacy. This book explores Heath s relationships with actresses Heather Graham, Naomi Watts, and Michelle Williams (his ex-fiancée and the mother of his daughter Matilda), recounts the full story of the making of 'Brokeback Mountain', and details that film s subsequent impact. It charts Ledger s increasingly troubled state of mind as the role of the Joker in 'The Dark Knight' took a disturbing physical and psychological toll, and examines the dissatisfaction with his own performances that plagued him until the very end. 'Heath Ledger: Hollywood s Dark Star' is the definitive story of the life and times of a compelling and intense young man whose loss will be profoundly felt for many years to come. [englische Ausgabe Heath Ledger: Hollywood's Dark Star]
---
Chris Roberts: Heath Ledger: Die illustrierte Biographie. Berlin: Schwarzkopf & Schwarzkopf, ? - 112 S., 100 Abb.
Heath Ledgers frühzeitiger Tod am 22. Januar 2008 erschütterte Millionen Fans weltweit. Der Australier hinterlässt eine kleine Tochter und eine unvollendete große Filmkarriere. Er galt als einer der vielversprechendsten Jungschauspieler der Traumfabrik. In seinen ersten Hollywoodfilmen spielte er stets den romantischen Helden wie in der Teeniekomödie 10 Dinge, die ich an dir hasse oder in Ritter aus Leidenschaft und gewann im Handumdrehen die Herzen von Tausenden jungen Mädchen. Seinen Durchbruch in den Film-Olymp schaffte er 2005 mit der Oscar-nominierten Rolle als schwuler Cowboy in Brokeback Mountain. Kritiker feierten ihn als Schauspielwunder und verglichen ihn mit dem jungen Marlon Brando. Ruhm und Erfolg waren jedoch nur eine Seite in Ledgers Leben. Seit der Trennung von Michelle Williams, der Mutter seines Kindes, im Oktober 2007, war er Dauergast in New Yorker Clubs, nahm Drogen und bekämpfte seine Schlaflosigkeit mit Tabletten, die schließlich zu seinem tragischen Tod führten. * Das Buch erzählt, wie Heath Ledgers schauspielerisches Talent und sein großer Ehrgeiz ihn von seiner Heimat Australien nach Hollywood brachten. Es beschreibt seine Karriere von den Anfängen im australischen Fernsehen über erste Filmerfolge in der Rolle des Mädchenschwarms bis hin zu den großen Hollywoodkassenschlagern und der Oscar-Nominierung als bester Schauspieler. Schon als Teenager stand Ledger im Rampenlicht und begeisterte besonders sein weibliches Publikum. So ist es nicht verwunderlich, dass auch sein Liebesleben von Anfang an großes öffentliches Interesse fand. Die Biographie schildert seine Beziehungen und aufsehenerregenden Affären mit meist älteren Frauen und berichtet, wie er sich in die gleichaltrige Schauspielkollegin Michelle Williams verliebte. Sämtliche Filme seiner kurzen, aber beeindruckenden Laufbahn werden aufgeführt und besprochen. Die zahlreichen Fotos zeigen Ledger in seinen Filmrollen sowie privat als fröhlichen Teenager, glücklichen Vater und berühmten Hollywoodstar.