FILMS
Splendor in the Grass (1960-USA * Elia Kazan ... Bud Stamper) (05-08; 6110)
The Roman Spring of Mrs. Stone (Der römische Frühling der Mrs. Stone, 1960/61-USA/GB; R: José Quintero, B: Gavin Lambert, K: Harry Waxman, M: Richard Addinsell, D: Vivien Leigh * Warren Beatty: Paolo di Leo, Lotte Lenya, Jill St. John) 103m-Liebesfilm (Roman von Tennessee Williams, 1950) (12-05; 6112)
All Fall Down (Mein Bruder... ein Lump, 1961-USA; R: John Frankenheimer, B: William Inge, K: Lionel Lindon, M: Alex North, D: Eva Marie Saint * Warren Beatty: Berry-Berry Willart * Karl Malden) 111m-Familiendrama (Roman von James Leo Herlihy, 1960) (07-09; 6203)
Lilith (Lilith, 1963-USA; R+B: Robert Rossen, K: Eugen Schüfftan, M: Kenyon Hopkins, D: Warren Beatty: Vincent Bruce * Jean Seberg) 114m-Drama (Roman von J.R. Salamanca, 1961) (05-?; 6410)
Mickey One (Mickey One, 1964-USA; R: Arthur Penn, B: Alan Surgal, K: Ghislain Cloquet, M: Eddie Sauter, D: Warren Beatty: Mickey One, Hurd Hatfield, Alexandra Stewart & Franchot Tone) 93m-Drama (03-05; 6509)
Promise Her Anything (Versprich ihr alles, 1965-GB; R: Arthur Hiller, B: William Peter Blatty, K: Douglas Slocombe, M: Lyn Murray, D: Warren Beatty: Harley Rummell * Leslie Caron, Bob/Robert Cummings) 97m-Komödie (02-05; 6511)
Kaleidoscope (Der Gentleman-Zinker, 1966-GB; R: Jack Smight, B: Robert Carrington, Jane Howard-Carrington, K: Christopher Challis, M: Stanley Myers, D: Warren Beatty: Barney Lincoln * Susannah York) 103m-Krimikomödie (01-04; 6607)
Bonnie and Clyde (1966-USA * Arthur Penn ... Clyde Barrow) (10-12; 6708)
The Only Game in Town (1968/69-USA * George Stevens ... Joe Grady) (Bühnenstück von Frank D. Gilroy) (7001)
McCabe & Mrs. Miller (1970/71-USA * Robert Altman ... John McCabe) (Roman von Edmund Naughton) (10-01; 7106)
$ (1971-USA * Richard Brooks ... Joe Collins) (7112)
The Parallax View (1973-USA * Alan J. Pakula ... Joseph [Joe] Frady) (Roman von Loren Singer) (7406)
Shampoo (1974-USA * Hal Ashby ... George Roundy) (03-?06; 7502)
The Fortune (Mitgiftjäger, 1974-USA; R: Mike Nichols, B: Adrien Joyce [= Carole Eastman], K: John A. Alonzo, MA: David Shire, D: Jack Nicholson * Warren Beatty: Nicky, Stockard Channing) 88m-Komödie (07-10; 7505)
Heaven Can Wait (Der Himmel soll warten, 1977-USA; R: Warren Beatty & Buck Henry, B: Elaine May, Warren Beatty, K: William A. Fraker, M: Dave Grusin, D: Warren Beatty: Joe Pendleton * Julie Christie * James Mason * Charles Grodin * Dyan Cannon * Buck Henry * Vincent Gardenia & Jack Warden) 101m-Fantasykomödie (Bühnenstück It Was Like That / Halfway to Heaven von Harry Segall, 1938 > unproduced) (07-10; 7806)
Reds (1979/80-USA * Warren Beatty ... John Reed) (8112)
Ishtar (Ishtar, 1985/86-USA; R+B: Elaine May, K: Vittorio Storaro, M: Dave Grusin, D: Warren Beatty: Lyle Rogers * Dustin Hoffman * Isabelle Adjani) 107m-Abenteuerkomödie (10-04; 8705)
Dick Tracy (1989-USA * Warren Beatty ... Dick Tracy) (9006)
Bugsy (Bugsy, 1991-USA; R: Barry Levinson, B: James Toback, K: Allen Daviau, M: Ennio Morricone, D: Warren Beatty: Bugsy Siegel * Annette Bening) 135m-Gangsterfilm (01-05; 9112)
Love Affair (Perfect Love Affair, 1993/94-USA; R: Glenn Gordon Caron, B: Robert Towne, Warren Beatty, K: Conrad L. Hall, M: Ennio Morricone, D: Warren Beatty: Mike Gambril * Annette Bening) 108m-Liebesdrama (08-01; 9410)
Bulworth (Bulworth, 1996/97-USA; R: Warren Beatty, B: Warren Beatty, Jeremy Pikser, K: Vittorio Storaro, M: Ennio Morricone, D: Warren Beatty: Jay Bulworth, Halle Berry, Don Cheadle, Oliver Platt, Paul Sorvino, Jack Warden, Isaiah Washington) 108m-Politfarce (11-03; 9805)
Town & Country (Stadt, Land, Kuss, 1998-00-USA; R: Peter Chelsom, B: Michael S. Laughlin, Buck Henry, K: William A. Fraker, M: Rolfe Kent, D: Warren Beatty: Porter Stoddard * Diane Keaton * Andie MacDowell * Garry Shandling * Jenna Elfman * Nastassja Kinski & Goldie Hawn) 104m-Komödie (06-?.98/reshoot: 04-05.00; 0104)
Rules Don't Apply (Regeln spielen keine Rolle, 2014-USA; R+B: Warren Beatty, K: Caleb Deschanel, D: Warren Beatty: Howard Hughes * Lily Collins * Alden Ehrenreich) 127m-Tragikomödie (02-06/+02; 1611)
AWARDS
Golden Globe (bester Darsteller - Kategorie Musical/Komödie) für Heaven Can Wait (1979)
National Board of Review Award (beste Regie) für Reds (1981)
Los Angeles Film Critics Association Award (beste Regie) für Reds (1981)
Academy Award / Oscar (beste Regie) für Reds (1982)
Golden Globe (beste Regie) für Reds (1982)
Directors Guild of America Award für Reds (1982)
National Board of Review Award (bester Darsteller) für Bugsy (1991)
Goldener Löwe (für sein Lebenswerk) [Filmfestspiele Venedig 1998]
Donostia-Preis (für sein Lebenswerk) [Filmfestival San Sebastián 2001]
Academy Fellowship (Auszeichnung für sein Lebenswerk) [BAFTA Awards 2002]
Cecil B. DeMille Award [Golden Globes 2007]
Life Achievement Award [American Film Institute 2008]
BOOKS
> John Parker: Warren Beatty: The Last Great Lover of Hollywood. London: Headline, 1993
---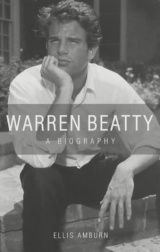 Ellis Amburn: The Sexiest Man Alive: Warren Beatty - The Biography. London: Virgin Books, 2003

A well-known womaniser, the notches on Beatty's bedpost read like a who's who of female stardom. His liaisons have included Jackie Kennedy Onassis, Linda Eastman (later McCartney), Maria Callas, Cher, Brigitte Bardot, Barbara Streisand and Jane Fonda. Including a wealth of previously unreported information on early affairs with Joan Collins and Natalie Wood, to his relationship with Madonna, this title also unearths Beatty's intriguing family background - including his highly charged and competitive relationship with his older sister Shirley MacLaine - and how he left his reputation as an international Casanova behind to finally construct a solid marriage to Annette Bening. Extraordinarily driven and motivated, Warren Beatty was one of the young film-makers who revolutionized Hollywood in the 60s and 70s, working alongside such greats as Faye Dunaway, Roman Polanski, Jack Nicholson, Hal Ashby, Robert Altman and Al Pacino. Along with figures like Clint Eastwood, he became a Hollywood player in every aspect of the movie business: a new breed of star. Through interviews with his colleagues, the book sheds light on each of his films and his unique way of working. This title tells the story of how movie-making changed in the 60s and 70s. Beatty was one of the first actors to take a greater role in movie production, ending up with a much higher stake in his movies' fates. Later he also blazed a trail in politics, becoming a key power-broker within the Democratic Party and attracting controversy along the way.
---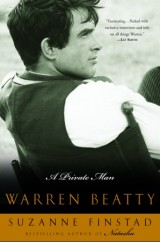 Suzanne Finstad: Warren Beatty: A Private Man. New York: Random House, 2005

Warren Beatty guarded his privacy even before he became a movie star, when he burst onto the screen in 1961 as the earnestly handsome all-American boy in Splendor in the Grass. When he started acting, Beatty kept secret the fact that actress Shirley MacLaine, already a star, was his older sister. Over time, he has cultivated a mystique, giving few interviews and instructing others not to talk about him. Until now. Through years of groundbreaking research, lauded biographer Suzanne Finstad gained unprecedented access to Beatty's family, close friends, and film colleagues, including such luminaries in the arts and politics as Jane Fonda, Goldie Hawn, Leslie Caron, Robert Towne, Mike Nichols, and Senators John McCain, George McGovern, and Gary Hart. Weaving hundreds of these candid interviews, photographs from private albums, personal letters, diaries, and the previously unpublished papers of the late Natalie Wood and mentors such as directors Elia Kazan and George Stevens, playwrights Clifford Odets and William Inge, and agent Charles Feldman, Warren Beatty unveils the real Beatty - a complex, sensitive visionary torn between the "fairly puritanical, football-playing boy" from Virginia and his Hollywood playboy image. Finstad paints a rich, fascinating portrait of the secretive film legend, taking us back to the "unrealized genius" parents who molded arguably the most famous brother and sister in Hollywood history, tracing the family influences and events in Beatty's past that directly inspired McCabe & Mrs. Miller, Shampoo, Heaven Can Wait, Reds, Ishtar, Dick Tracy, Bugsy, Love Affair, and Bulworth, and led to his political activism, culminating in a near-bid for the White House. Finstad constructs the definitive, myth-shattering account of Beatty's evolution from Hollywood's enfant terrible to producer of the revolutionary Bonnie and Clyde, launching him as the premier actor/director/writer/producer of his generation, the only person to twice earn Oscar nominations in all five major categories. Here also is the truth about Beatty the lover, setting the record straight on his storied relationships with such iconic actresses and beauties as Jane Fonda, Joan Collins, Natalie Wood, Leslie Caron, Julie Christie, Goldie Hawn, Michelle Phillips, Diane Keaton, Isabelle Adjani, and Madonna. Finstad's astute insights illuminate Beatty's private struggle to attain happiness, his complicated bond with his sister, Shirley, and the deeper reasons why, at fifty-four, the archetypal bachelor married actress Annette Bening. Stunningly researched, engrossing, and exquisitely detailed, Warren Beatty: A Private Man gives us a new understanding of the enigmatic, fiercely intelligent star who embodies the American dream.
---
Peter Biskind: Star: How Warren Beatty Seduced America. New York: Simon & Schuster, 2010

In this compulsively readable and constantly surprising book, Peter Biskind, the author of the film classics Easy Riders, Raging Bulls and Down and Dirty Pictures, writes the most intimate, revealing, and balanced biography ever of Hollywood legend Warren Beatty. Famously a playboy - he has been linked to costars Natalie Wood, Julie Christie, Diane Keaton, and Madonna, among others - Beatty has also been one of the most ambitious and successful stars in Hollywood. Several Beatty films have passed the test of time, from Bonnie and Clyde to Shampoo, Heaven Can Wait, Reds (for which he won the best director Oscar), Bugsy, and Bulworth. Few filmgoers realize that along with Orson Welles, Beatty is the only person ever nominated for four Academy Awards for a single film - and unlike Welles, Beatty did it twice, with Heaven Can Wait and Reds. Biskind shows how Beatty used star power, commercial success, savvy, and charm to bend Hollywood moguls to his will, establishing an unprecedented level of independence while still working within the studio system. Arguably one of the most successful and creative figures in Hollywood over the last few decades, Beatty exercised unique control over his films, often hiring screenwriters out of his own pocket (and frequently collaborating with them), producing, directing, and acting, becoming an auteur before anyone in Hollywood knew what the word meant. In this fascinating biography, the ultimate Hollywood Star comes to life - complete with excesses and achievements - as never before. > 640 pages