credits

Regie

:

Oliver Stone

Drehbuch

:

Andrea Berloff


Kamera

:

Seamus McGarvey

Musik

:

Craig Armstrong

Musiküberwachung

:

Budd Carr

Produktion

:

Michael Shamberg

:

Stacey Sher

:

Moritz Borman

:

Debra Hill

(a) Michael Shamberg / Stacey Sher / Moritz Borman (production)

(presented by) Paramount Pictures

John McLoughlin

..

Nicolas Cage

Will Jimeno

..

Michael Peña

Allison Jimeno

..

Maggie Gyllenhaal

Donna McLoughlin

..

Maria Bello

Scott Strauss

..

Stephen Dorff

Dominick Pezzulo

..

Jay Hernandez

Dave Karnes

..

Michael Shannon

Judy Jonas

..

Donna Murphy

Chuck Sereika

..

Frank Whaley

Mutter im Krankenhaus

»

Viola Davis

Christopher Amoroso

..

Jon Bernthal

Donnas Nachbarin

..

Patti D'Arbanville

Inspector Fields

»

Jude Ciccolella

Allisons Bruder

..

Brad William Henke

Allisons Vater

..

Peter McRobbie

Officer Polnicki

»

Ned Eisenberg

Officer Giraldi

..

Danny Nucci

Officer Colovito

..

Nicholas Turturro

Allisons Mutter

»

Dorothy Lyman

Antonio Rodrigues

..

Armando Riesco

Officer Reynolds

..

Tom Wright

Länge

129m (c)

Drehzeit

Okt. '05-Februar '06

Drehorte

New York;
New Jersey

Kinostart

August 2006
September 2006 (D)

Blu-ray

März 2007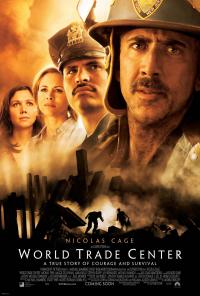 Katastrophendrama: New York, 11. September 2001. Seit 20 Jahren versieht der Cop John McLoughlin (Nicolas Cage) seinen Dienst an der Südspitze Manhattans. Als er sich um drei Uhr in der Früh stumm von seiner schlafenden Ehefrau Donna (Maria Bello) und den Kindern verabschiedet, deutet nichts darauf hin, dass dies sein Schicksalstag werden wird. In der Zentrale beim Port Authority Bus Terminal geht man routinemässig das Tagesprogramm durch. Neben McLoughlin steht da auch der junge Polizeioffizier Will Jimeno (Michael Peña), der bald zum Schicksalsgenossen seines erfahrenen Dienstkollegen werden soll. Als die Meldung eintrifft, ein Flugzeug sei in den Nordturm des World Trade Center geflogen, machen sich die Polizisten auf, vor Ort für Ordnung zu sorgen. Noch läuft alles routinemässig. Doch als 17 Minuten nach dem Nordturm auch der Südturm von einem Flugzeug getroffen wird, befinden sich McLoughlin und Jimeno im brennenden ersten Ziel der Terrorattacken und versuchen, Eingeschlossene zu evakuieren. Von der Lobby aus sehen die beiden, wie der Südturm in sich zusammenfällt. Kurze Zeit später kollabiert auch der Nordturm. McLoughlin und Jimeno kommen wie durch ein Wunder lebend davon, müssen aber bald erkennen, dass sie die einzigen Überlebenden ihres Trupps sind, begraben und eingeschlossen unter Trümmern... [SRF, September 2011 | Poster/Verleih: Paramount Pictures, 2006]

||

Based on the true life events of John & Donna McLoughlin and William & Allison Jimeno * Filmed in part at the stages at Playa Vista, California.