credits

Regie

:

Roger Corman

Drehbuch

:

Richard Matheson


Kurzgeschichten

:

Edgar Allan Poe

Kamera

:

Floyd Crosby

Musik

:

Les Baxter

Produktion

:

Roger Corman

(an) American International (picture)

© Alta Vista Productions

Morella

Locke

..

Vincent Price

Lenora

..

Maggie Pierce

Morella

..

Leona Gage

The Black Cat

Fortunato

..

Vincent Price

Montresor

..

Peter Lorre

Annabel

..

Joyce Jameson

The Case of M. Valdemar

Valdemar

..

Vincent Price

Carmichael

..

Basil Rathbone

Helene

..

Debra Paget

Dr. James

..

David Frankham

Länge

89m (c)

Drehzeit

Nov.-Dezember 1961

Kinostart

Juli 1962
Januar 1964 (D)

DVD

Oktober 2003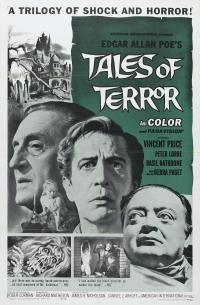 Episodenfilm: "Morella": Seit 26 Jahren führt Locke (Vincent Price) ein Eremitendasein, seit seine geliebte Frau Morella (Leona Gage) im Kindbett starb und das Kind außer Haus gegeben wurde. Nun kehrt die Tochter Lenora (Maggie Pierce) ins Elternhaus zurück. Nachts wird sie aus dem Schlaf geschreckt. Magisch zieht es sie in die Familiengruft, wo sie an der mumifizierten Leiche der Mutter das Entsetzen packt. * "Die schwarze Katze"/"Das Fass Amontillado": Während Annabel (Joyce Jameson) ihre ganze Liebe einer schwarzen Katze gibt, treibt sich ihr Mann Montresor (Peter Lorre) an Wirtshaustheken herum, bis man nicht mehr bereit ist, ihm weiterhin Kredit zu gewähren. In dem geheimnisvollen Fortunato (Vincent Price) findet er einen neuen Gönner, den er gleich seiner Frau vorstellt. Die Begegnung bleibt nicht ohne Folgen. * "Die Tatsachen im Fall Valdemar": Der Hauch des Todes liegt über Valdemar (Vincent Price). Von der Wirkungsweise des Mesmerismus überzeugt, gestattet er dem Hexenmeister Carmichael (Basil Rathbone), ihn zu behandeln und in einen mysteriösen Schwebezustand zwischen Leben und Tod zu versetzen, sehr zum Schmerz seiner Frau Helene (Debra Paget). Schon bald zeigt sich Carmichaels wahre Absicht, als er Helene erpresst. [3SAT, November 2010 | Poster/Verleih: American International Pictures, 1962]

||

In drei Episoden vereinigt Regisseur Roger Corman vier bekannte Gruselgeschichten (Morella, 1835; The Black Cat, 1843 + The Cask of Amontillado, 1846; Facts in the Case of M. Valdemar, 1845) von Edgar Allan Poe (1809-48) in diesem Spielfilm. * Richard Matheson über die Umsetzung seines Drehbuches: "I must sound like I'm an egomaniac, but once again I thought that was a very good script. But on that first segment the casting really bugged me - I always refer to that first segment as Shirley Temple in the Haunted House. In my script it was a really great character relationship between the two of them: Price was up to it, and I was visualizing someone like Nina Foch playing the dying daughter. But this girl that they got [Maggie Pierce] was terrible. And they also cut a lot out of it, so it just didn't work. The middle one had Lorre and Price and Joyce Jameson, who was marvelous. I enjoyed that middle one, I thought Price was wonderful and that the wine-tasting sequence was just delightful. And the last one - except for the lousy special effect at the end - I thought was very good, one of my favorites. They did a really nice job on that, very intelligent."