credits

Regie

:

W.S. Van Dyke

Drehbuch

:

Christopher Isherwood

:

Robert Thoeren

:

James Hilton

Kamera

:

Oliver T. Marsh

Musik

:

Bronislau Kaper

Produktion

:

Gottfried Reinhardt

(presented by) Metro-Goldwyn-Mayer

© Loew's Inc(orporated), 1941

Philip Monrell

»

Robert Montgomery

Stella Bergen

..

Ingrid Bergman

Ward Andrews

»

George Sanders

Mrs. Monrell

..

Lucile Watson

Dr. Rameau

..

Os

k

ar Homolka

Mr. Higgins

Philip Merivale

Ramsbotham

..

Matthew Boulton

Clark

..

Aubrey Mather

Staatsanwalt

..

Frederic

k

Worlock

Bardsley

..

Francis Compton

Mr. Black

..

Gilbert Emery

Durand

..

Ludwig Har

d

t

Länge

85m (bw)

Drehzeit

Dez. '40-Januar '41

Atelier

MGM Studios
[in] Culver City, Cal.

Kinostart

März 1941
Februar 1950 (D)

Blu-ray

-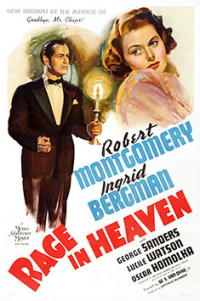 Psychodrama: Der junge, gut aussehende Industrieerbe Philip Monrell (Robert Montgomery) hat soeben die hübsche Sekretärin Stella (Ingrid Bergman) geheiratet und keinen Grund zu Depressionen. Trotzdem wird er von notorischen Minderwertigkeitsgefühlen geplagt. Selbst als er das sorglose Playboydasein aufgibt, um endlich die Leitung der Stahlwerke seines früh verstorbenen Vaters zu übernehmen, entkommt er nicht dem peinigenden Gefühl von Minderwertigkeit. Denn die Fabrik läuft bestens ohne ihn, sodass der "Frühstücksdirektor" seine Bürozeiten mit dem Lösen von Kreuzworträtseln verbringen muss. Um sich als Souverän aufzuspielen, beruft Philip vor den Augen seiner ahnungslosen Frau eine Konferenz ein, auf der er mit demonstrativer Härte eine peinliche Fehlentscheidung erzwingt. Ein Arbeiteraufstand ist die Folge, und allein der herbeigerufene Freund Ward (George Sanders) kann durch sein beherztes Eingreifen die Katastrophe abwenden. Nach dem erfolglosen Versuch Philips, Ward umzubringen, wird Stella endlich klar, dass ihr Mann unter Verfolgungswahn leidet. Sie verlässt Philip, um mit Ward zusammenzuleben. Als die Polizei Philip ermordet auffindet, fällt der Verdacht auf Ward. Das Schwurgericht glaubt an einen Liebesmord und verurteilt Ward auf Grund von Indizien zum Tode... [BR, September 2012 | Poster/Verleih: Metro-Goldwyn-Mayer, 1941]

||

Nach dem Roman Dawn of Reckoning (1925, London; US-Titel: Rage in Heaven, 1932, New York) von James Hilton. * TCM (Andrea Passafiume): According to Ingrid Bergman in her 1980 autobiography My Story, [Robert] Montgomery had a plan to rebel. He came to her one day before shooting began and warned her that he had no plans to act in Rage in Heaven. "I'm very sorry to do this to you," he told her, "but I'm forced to do this movie, so I intend to just say the lines but not act." Eventually he explained that he was staging this protest out of sheer exhaustion. He was under a seven-year contract with MGM and felt he was being overworked. (...) Shooting began on Rage in Heaven under the direction of Robert Sinclair. In keeping with his plan, Robert Montgomery played every line and every scene completely monotone and flat. He also pretended not to hear Sinclair when he attempted to direct him. After two weeks of this, Sinclair quit the picture. MGM responded by bringing in veteran director W.S. "One-Take Woody" Van Dyke, a man known for getting the job done quickly and economically. Ingrid Bergman had heard that Van Dyke was tough, and she didn't like him or his boot camp methods at all. Robert Montgomery continued his "non-acting" protest while Bergman just tried to do her best and get through the picture. Co-star George Sanders was simply fed up with all the nonsense and slept most of the time.