credits

Regie

:

Harold Prince

Drehbuch

:

Hugh Wheeler


Kamera

:

Arthur Ibbetson

musical director

:

Paul Gemignani

music scored and supervised by

:

Jonathan Tunick

music and lyrics by

:

Stephen Sondheim

Produktion

:

Elliott Kastner

(presented by) Sascha-Wien Film (Vienna) / ©

(and) S&T-Film Berlin

(in association with) Elliott Kastner

Désirée Armfeldt

..

Elizabeth Taylor

Charlotte Mittelheim

..

Diana Rigg

Frederick Egerman

..

Len Cariou

Anne Egerman

..

Lesley-Anne Down

Mme Armfeldt

&

Hermione Gingold

Carl-Magnus Mittelheim

..

Laurence Guittard

Erich Egerman

»

Christopher Guard

Fredericka Armfeldt

..

Chloe Franks

Kurt

..

Heinz Marecek

(erste) Dame

..

Dagmar Koller

(zweite) Dame

..

Ruth Brinkman

Petra

&

Lesley Dunlop

Länge

124m (c)

Drehzeit

Sept.-Oktober '76

Drehort

Österreich

Kinostart

Dezember 1977, LA

Erstaufführung (D)

Juli 1994 (TV)

DVD

-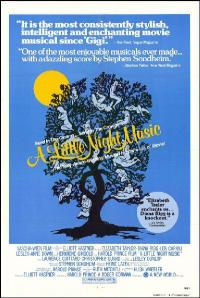 Musikromanze: Wien, 1905: Der erfolgreiche Rechtsanwalt Frederick Egerman (Len Cariou) ist seit Kurzem mit der 18-jährigen Anne (Lesley-Anne Down) verheiratet. Aber auch sein bereits erwachsener Sohn liebt die junge Stiefmutter. Als Plakate den Auftritt der berühmten Schauspielerin Désirée Armfeldt (Elizabeth Taylor) ankündigen, mit der ihn eine Liebesbeziehung verband, beschließt der Rechtsanwalt, die Vorstellung seiner einstigen Geliebten mit seiner Frau zu besuchen. Es kommt zu einem folgenschweren Eklat... [3SAT, August 2015 | Poster/Verleih: New World Pictures, 1977]

||

Suggested by a film by Ingmar Bergman * Based on the musical A Little Night Music (music and lyrics by Stephen Sondheim, book by Hugh Wheeler) * Filmed on location and at Wien-Film Studio with the co-operation of the Austrian Government * Verfilmung eines Broadway-Musicals (1973), das wiederum auf Ingmar Bergmans Film Sommarnattens leende (Das Lächeln einer Sommernacht, 1955-S) zurückgeht. Die Regie in der Bühnenversion führte Harold Prince, und die Hauptrollen spielten u.a. Glynis Johns (als Désirée), Patricia Elliot, Beth Fowler und George Lee Andrews. Len Cariou, Laurence Guittard, and Hermione Gingold wurden in den Film übernommen. * Jonathan Tunick gewann einen Oscar für die beste Musik (Best Music, Original Song Score and Its Adaptation or Best Adaptation Score) * Zweite und bis dato letzte Filmarbeit des renommierten Theaterregisseurs Harold Prince.