credits

Regie

:

Joe Johnston

Drehbuch

:

Christopher Markus


:

Stephen McFeely

Kamera

:

Shelly Johnson

Musik

:

Alan Silvestri

music supervisor

:

Dave Jordan

Produktion

:

Kevin Feige

(a) Marvel Studios (production)

(presented by) Paramount Pictures

(and) Marvel Entertainment

Steve Rogers

/

Captain America

..

Chris Evans

Colonel Chester Phillips

..

Tommy Lee Jones

Johann Schmidt

/

Red Skull

..

Hugo Weaving

Peggy Carter

..

Hayley Atwell

James Buchanan "Bucky" Barnes

..

Sebastian Stan

Howard Stark

..

Dominic Cooper

Dr. Arnim Zola

..

Toby Jones

Timothy "Dum Dum" Dugan

..

Neal McDonough

Gabe Jones

..

Derek Luke

Jacques Dernier

»

Bruno Ricci

James Montgomery Falsworth

..

JJ Feild

Jim Morita

..

Kenneth Choi

Heinz Kruger

..

Richard Armitage

Dr. Abraham Erskine

&

Stanley Tucci

Nick Fury

Samuel L. Jackson

Länge

124m (c)

Drehzeit

Juni-

November

2010

Nachdreh [retakes]

April 2011

Drehorte

England, GB;
Wales, GB;

filmed at

Shepperton Studios, GB

Kinostart

Juli 2011
August 2011 (D)

Blu-ray

Oktober 2013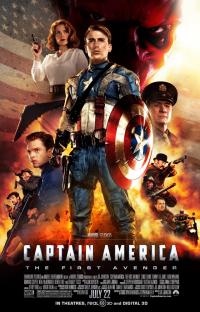 Actionabenteuer: In Europa wütet der Zweite Weltkrieg. Der junge US-Amerikaner Steve Rogers (Chris Evans) will seine patriotische Pflicht erfüllen, doch für das schmächtige, asthmatische "Bubi" haben die Aushebungsoffiziere nur ein müdes Lächeln übrig. Anders Doktor Abraham Erskine (Stanley Tucci), der vom grossen Herzen Steve Rogers' beeindruckt ist. Der von den Nazis geflohene Wissenschaftler mutiert den Schwächling mittels einer medizinischen Versuchsreihe zum übermenschlichen Kraftprotz. Steves Traum vom Kampfeinsatz scheint sich zu erfüllen. Das US-Militär hat mit dem Supersoldaten jedoch andere Pläne. Steve Rogers alias Captain America soll auf Bühnenshows im ganzen Land für Kriegsanleihen werben und in Propagandafilmen die Moral der Nation hochhalten. Captain America macht den Zirkus mit - bis ihm der Kragen platzt und er auf eigene Faust ins Kriegsgeschehen eingreift. Dort bekommt er es mit einem Gegner zu tun, den sogar Adolf Hitler für durchgeknallt hält: den Forscher Johann Schmidt (Hugo Weaving), der mit okkulten Mächten experimentiert und seine Spezialtruppe mit Strahlenkanonen ausgerüstet hat... [SRF, November 2015 | Poster/Verleih: Paramount Pictures, 2011]

||

Based on the Marvel comic by Joe Simon and Jack Kirby * Die Fortsetzung der Abenteuer von Captain America mit dem Titel Captain America: The Winter Soldier (The Return of the First Avenger) kam 2014 ins Kino.